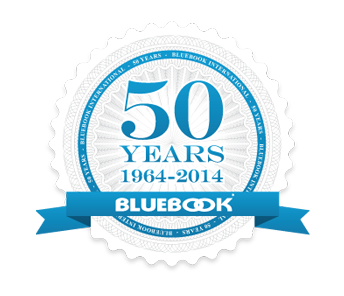 The Development of Standards Over 5 Decades
Since 1964, Bluebook has been publishing Residential Repair and Replacement Costs across the United States. Bluebook's cost data is based on many factors that include nationally researched labor rates, material and equipment costs, actual loss repairs, related contractor bids, and insurance claim audits.
Bluebook International, Inc., provides accurate, "on demand" residential replacement cost, risk analysis, and other essential property value information reports for nearly 91% of the nation's single family residences. Bluebook's proven web-based integrated data solutions help validate proper premiums, mitigate risks, reduce cycle time, and improve productivity for the property and casualty insurance industry, residential real estate, and related services markets.
Bluebook information and services are utilized by leading insurance, mortgage banking, and recognized providers of the residential real estate services industries across the United States.
Primary Markets:
Consumer
Real Estate Agents
Property Claims and Underwriting
Appraisal
Preservation
Inspection
Compliance
Construction
Built on a Solid Foundation
Bluebook's processes and methodology incorporate decades of experience in dealing with property data as well as ever-evolving standards across multiple industries.
The Bluebook Solutions use proprietary formulas and methodology based on real-world experience.
Resulting Client Benefits and Outcomes:
Decreased Costs
Increased Revenue & Profitability
Mitigation of Risk and Fraud
Increases in Efficiency
Full Transparency
Analysis of Property Trends
Decision-Ready Disposition, Acquisition, and Financing Strategies