The 2017 Bluebook Residential & Light Commercial Cost Guide, The Book That Over Half a Million Industry Professionals Know & Trust! Since 1964
The Bluebook provides over 100,000 residential & light commercial structure and contents costs for construction, reconstruction, remodeling, repairs, and home improvement of all types throughout the United States and Canada.
Easily Estimate Costs for Most Any Project or Repair!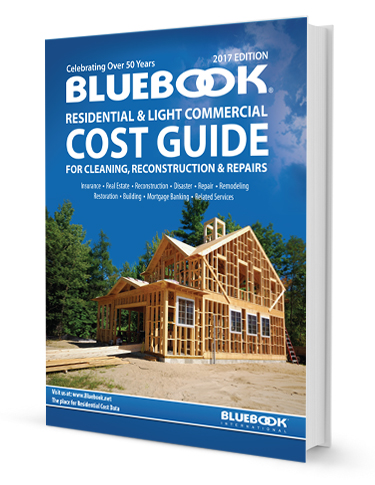 In-place, square-foot costs means we've done all the calculations for you. There are no calculating indexes or factoring tables. Reconstruction, Repair, and Cleaning Costs that are on the same page as you are!

Five decades of experience and countless man-hours have been dedicated to the research of thousands of reconstruction and repair costs and the review of hundreds of thousands of line items throughout North America. It still remains the industry's only cleaning, repair, and reconstruction cost guide to include component-based pricing, trade-by- trade depreciation and in-place unit cost tables for residential and light commercial structures.

The Bluebook has been setting industry standards and reporting fair and accurate residential and light commercial reconstruction, repair, and cleaning costs since 1964 - five decades of experience now at your fingertips. No other cost guide offers the same! A standard in fair and accurate pricing. Know your prices. Estimate with confidence. Get the job done right!
Available in both Print and eBook