Residential Repair Estimating for Real Estate Agents and Inspectors

Bluebook's Repair Estimator allows professionals of all types to create immediate and accurate "contractor quality" estimates detailing the costs of repairs and upgrades required for a property.
Professional Project Estimation
In today's market, it is critical that home owners, investors, lenders, real estate agents, and appraisers have a reliable, accurate method in which to estimate the cost of repairs. Bluebook's Repair Estimator was built to allow any user the ability to quickly and accurately produce repair cost estimates without contractor training providing localized repair estimates that include labor, materials and equipment.
Features of the Bluebook Repair Estimator

Easy to use

Add areas or rooms and then simply add repairs to those areas. Search either by filter or keyword to find your repair items. Once selected, the system will suggest other common repairs to complete your repair task.

Over 4,800 Line Items Priced to the Zip-Code Level

5 decades of experience and countless man-hours have been dedicated to the research of hundreds of trades and hundreds of thousands of line items throughout North America.

Photos and Measurements Included

The system helps identify measurements needed and provides the option of adding photos to each estimate on the repair level giving more insight to each task.

Online Report for Easy Sharing

Your report is always available online. Save it as a PDF, or email your report url for sharing. Your personal dashboard stores all estimates for on demand retrieval.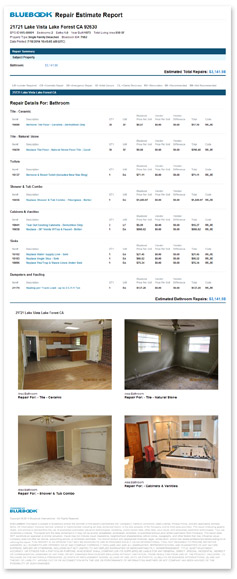 Structure Trades Covered
Acoustical Ceilings
Appliances
Asbestos Removal
Asphalt Paving
Awnings & Enclosures
Bathrooms
Cabinets
Carpet Dyeing
Carpet & Structure
Restorative Drying
Hazardous Waste
Sewage
Cleaning
Concrete & Deco Stone
Counter Tops
Charts, Graphs/How to's
Demolition
Deodorization
Doors & Screens
Drywall
Electrical
Emergency Services
Fences & Walls
Flooring
Framing & Carpentry
Garage Doors
Glass & Mirror
HVAC
Insulation
Masonry
Mobile Homes
Depreciation Schedules
Demolition Molding & Trim
Mold Remediation
Painting Interior
Painting Exterior
Plastering
Paneling
Plumbing
Roofing
Security Systems
Siding & Stucco
Storage Sheds
Wallpaper
Windows & Patio Doors
Lighting Fixtures
Lumber & Material
Landscaping... AND MORE
Estimating your project cost is easy as 1, 2, 3 (and maybe 4!)
Answer the short property address and characteristics questions, this helps us generate the property's estimated measurements.
Add the area(s) where the repair or remodel will occur. We will give you measurements for that area based on which line items you choose.
Use the repair wizard to search and select line items for your repair, adjust the quantities and add any comments. Repeat this process until you have added everything for that task.
You're done! Optionally, you can add photos to your estimate for each repair you note. Click the preview estimate or generate your estimate as a PDF. Simple!
Bluebook Repair Estimator pricing options


Packages
Bluebook Repair Estimate

One (1) Estimate

$9.99 ea

Ten (10) Estimates

$99.00 ($9.90 ea)

Twenty-Five (25) Estimates

$199.00 ($7.96 ea)

One Hundred (100) Estimates

$600.00 ($6.00 ea)

Bulk Discounts

Call